Recruiter
Freejam
Full time
Portsmouth, UK
Apr 28
Freejam (https://freejamgames.com/), developers of the hit online multiplayer game Robocraft (http://robocraftgame.com), is now looking for a Recruiter to join our growing team in order to hire talented developers to create our new ambitious online free-to-play title Techblox.
We are looking for an enthusiastic and pro-active Recruiter, who is very much a self-starter and has experience of hiring game developers, working closely with the hiring managers and reporting directly to the CEO.
Initially it will be on an in-house fixed term contract of 12 months, with a view to permanent employment.
This position would suit a candidate who has previously hired developers into games and / or tech companies and who has a passion for internal recruitment.
Within this role you will:
Actively source potential candidates for roles subject to business requirements
Screen, interview and short-list potential candidates
Coordinate interviews and travel with candidates and the hiring manager
Maintain your talent via the ATS (Workable)
Attend recruitment events where required
Assist with on-boarding & relocation
Write and post job descriptions
Use various innovative research methods to source and develop a diverse candidate pipeline
Proactively research and deliver analytics and insights into the recruitment process, the candidate market and industry.
Travel for networking events etc from time to time
Complete the required admin in order to hire the candidate (right to work checks, contracts, referencing, visa applications)
Requirements
2+ years' experience working in-house, agency in the games industry or other similar tech-based industry on a global basis
Demonstrated experience and knowledge of technical recruitment in a fast-paced environment from either an external agency or in-house
Strong networking, interpersonal and communication skills
Self-motivated, highly organised, strong attention to detail and gets things done
Ability to build and effectively maintain relationships
Ability to handle confidential and proprietary information
Effective communicator on social media, email, phone and in person
Strong sales and negotiation skills
Prior experience working with ATS
Benefits
Freejam is based in Portsmouth, UK. Due to Covid, you will likely onboard with the company remotely, but as soon as it is safe to do so you will be expected to join us in the studio.
Freejam is a fully indie team, we shape our destiny. We decide game features, what platforms we release on, what dates we release on, how we promote and market our games, what business models we choose to follow, our prices, everything. It is fun and very rewarding to be the master of your own game development destiny. This is the freedom that being properly independent brings and this is what Freejam is all about.
Even if we are a small company, we're able to offer good benefits including flexible working hours, an ambitious, ego-free and relaxing environment. Further perks include days out/pub meet up when possible and, of course, our legendary Christmas parties.
Freejam is currently in the amazing position of building a brand new project and we're looking for like-minded people who can help shape it.
Diversity
Freejam is aware that sometimes minorities are under-represented in the game development industry. We welcome applications from people from all under-represented groups.
About Portsmouth
Portsmouth is a historic naval city, now recognized for its university, on the south coast of England with good transport links to London. Freejam's studio is located on the harbor surrounded by popular venues, restaurants, and bars. Portsmouth gives you all the benefits of a proper city, without the chaos and the costs associated with living in London.
Apply
Your application has been successfully submitted.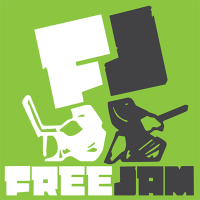 We're a truly independent games studio, free to create, innovate and take risks. We're currently recruiting programmers